Are Glacier Bay Faucets any good?
In this Glacier Bay faucet review (2023), we will see how they fare against the pricing and if they are good-looking and reliable for the price.
Let's start!
Here's a quick overview of Glacier Bay faucets:
Type
Glacier Bay kitchen faucets
Pull down Pricing
$50 – $130
Pull out Pricing
$50 – $130
Two handles pricing
$18 – $130
Warranty
One year, five years, or a lifetime warranty
Features
– Fastmount technology (easy to install)
– Affordable
– Pricing
– Timeless design
– Turbo spray
– Durable
Where to buy?
Amazon
Quick Navigation
Our Top 5 Glacier Bay Faucets
Last update on 2023-03-27 / Affiliate links / Images from Amazon Product Advertising API
About Glacier Bay Brand
Glacier Bay is one of the leading faucet brands on the market when it comes to faucets. 
Glacier Bay Faucets are unique due to their simple, elegant design, and are built to last a lifetime. They are a high-quality and affordable product.
Where are Glacier Bay Faucets Made?
Glacier Bay faucets are made around the world. 
Parts are manufactured in Taiwan, China, and Israel, before being shipped to the United States for assembly and sale.
Why Choose Glacier Bay Faucets?
When it comes to choosing a faucet for your kitchen, it is important that you weigh up all of your options. 
The following is a pros and cons list regarding the use of Glacier Bay faucets, listed here to inform your decision:
Pros
Affordable for those on a tight budget
Well designed and pleasing to look at
Each faucet comes equipped with a variety of diverse spray patterns
FastMount technology to help with ease of installation

Cons
In some models, plastic components may be present
Longevity may be an issue (some customers have experienced Glacier Bay Faucets not lasting as long as more expensive brands)
Glacier Bay Faucet Reviews 2023: Are They Any Good?
To sum up, Glacier Bay faucets have the right combination of the essentials; ease of installation (& use), good in looks and sturdy to use and that too with a justifiable pricing.
They offer pull-down, pull-out and faucets with two handles with a wide spray that pretty much caters to everything you'd want for an ideal kitchen faucet.
Let's discuss each of the type of Glacier Bay faucets in detail along with the good, the bad and the ugly.
Types of Glacier Bay faucets
1. Pull Down Faucet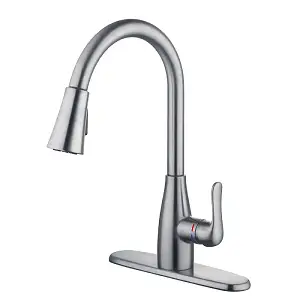 Pull-down faucets are so named because of their central feature; the head is able to be pulled down out of the faucet and directed wherever you please!
There are many models of pull-down faucets available from Glacier Bay. 
Coming in a variety of finishes, they will suit any and all kitchens. The features of pull-down faucets are as follows:
Single handle design provides water control with one lever, which is simple and effective
The spout swivels about on a high arc for absolute 360° access to all kitchen areas
The spray wand can be drawn out to a length of 11 inches for unprecedented reach
They are built with Glacier Bay's exclusive FastMount mounting technology, for ease of installation 
The flow rate of up to 1.8 GPM
In many models, a soap dispenser is included
A limited lifetime warranty is available
Comes with Turbospray features, which produce water columns that are up to 30% more powerful than those produced by standard pull-down faucets 
Stainless steel or matte black finish, applied using a physical vapor deposition process which ensures that the finish lasts a lifetime
The anti-drip feature is made possible by ceramic disc plates
Models available for one-, two-, or three-hole sinks (for three-hole sinks, a soap dispenser is included)
Price range between $50 and $130
Typical dimensions: 10.8 x 22.1 X 2.9 inches
Typical weight: 4.84 pounds
Related: Find the best kitchen faucets under $100
2. Pull Out Faucet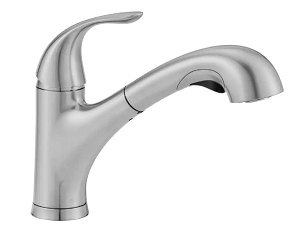 Pull-out faucets are another leading style of faucet available from Glacier Bay. 
Designed so that the faucet head may be pulled out, these faucets have incredible reach! Some of their other great features include: 
High arc, allowing for large pots to be washed in your sink with ease
The pull-out spray head offers two kinds of spray modes, Turbospray, and aerated spray, for maximum versatility
Metal construction ensures durability for long product life- these faucets are built to last
180° spout swivel for maximum access potential. Cleaning those large pots has never been easier!
Single or double-handled, with a lever mechanism
FastMount technology for ease of installation
Comes with a limited lifetime warranty
Price range between $50 and $130
Typical dimensions: 12.2 x 20.2 x 3.2 inches
Typical weight: 5.04 pounds
3. Two Handles with Wide Spray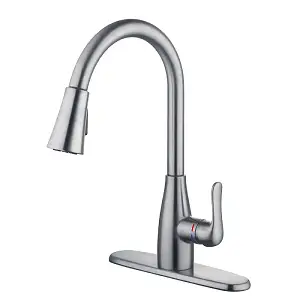 Another type of faucet available from Glacier Bay is the double-handled wide spray model. 
With water control maintained via two handles instead of one, these faucets share many features with their single-handle counterparts, which are: 
A spray head with a built-in double function- either the Stream or the Sweep mode can be selected, depending on the task at hand
30-inch supply lines for both hot and cold water, able to be integrated into your existing kitchen setup
The inclusion of ceramic disc valves ensures a long-lasting faucet, exceeding industry standards up to 2x for a lifetime of reliable, unwavering performance
Stainless steel finish, non-toxic and rust-proof
ABS aerator with a cleanable, replaceable filter net, for maximum water-saving efficiency
Configured for a three-hole kitchen setup
Cheaper than other models, the prices for these faucets range between $18 and $110
Typical dimensions: 7.72 x 15.24 x 2.48 inches
Typical weight: 2.45 pounds
Glacier Bay Faucet Customer Service 
If you have any questions, queries, or complaints about Glacier Bay and its faucet products, you can call them at 1-855-434-5224, or 1-855-HD Glacier Bay. Their service hours are from 8 am to 7 pm. 
For optimum service efficiency, make sure to have the product number of whichever faucet you wish to discuss ready at hand!
These can be found in the user's manual, on the product itself (or the box it came in), or on the receipt.
Glacier Bay Warranty
There are three different kinds of glacier bay faucets warranty available for their products.
Any defective product and/or part of a product will be replaced by them free of charge. 
One-year, five-year, and lifetime limited warranties are also available, depending on the product.
Lifetime warranties are given for all faucet products, as well as almost all other Glacier Bay kitchenware and bathroom ware.
Pros & Cons of Glacier Bay Faucets 
As with any product, Glacier Bay Faucets have their positives and negatives. 
Collated from various customer reviews, the following is a list of what you can expect from Glacier Bay faucets- both the good and the bad.
Pros
Many customers have reported that the FastMount technology really does increase the ease of installation
The faucets are generally well-priced and affordable (within the $18 – $130 range, depending on type and model)
Some customers have found that the faucets can last for at least four years of regular use 
Glacier Bay faucets are designed in timeless styles, so they integrate seamlessly into both modern and traditional kitchen environments
Sturdily made, the faucets work consistently with no issues in most cases
Customers also have expressed their love for the stainless steel construction with a chrome finish!
Related article: Best budget kitchen faucets reviewed
Cons
Some customers have had issues with: 
Plastic mounting brackets fail to hold the faucet in place for long, resulting in it coming loose
Leakage out of the sprayer head
Faulty packaging (loose hardware in box, package already opened, etc)
The spray head is not long enough for certain scenarios 
Faucets are prone to quick breakage
Leaking, due to the aforementioned plastic mounting brackets
Models with plastic aerators are also prone to leakage, which now seems to be a common problem
Swiveling difficulties- problems with maneuvering the faucet to the desired position
Conclusion
All in all, Glacier Bay faucets are certainly one of your best bets in 2023 if you are in the market for well-designed, aesthetically pleasing, and easily installable kitchen faucets!
Built to last and bundled with a lifetime warranty, you know you're making the right choice with Glacier Bay.
Further reviews on faucet brands:
FAQs
1. Who makes glacier bay faucets?
Glacier Bay kitchen faucet products are sold directly from The Home Depot's official website as they have exclusive product rights. However, the manufacturing units of glacier Bay products are under Globe Union Industrial Corporation.
2. Is glacier bay a good faucet brand?
Glacier Bay is one of the best faucet brands available in the market that takes care of decent quality and affordable prices. Considering the price point, Glacier is a reliable faucet brand option for you.
3. Are Glacier Bay faucets repairable?
Yes, Glacier Bay faucets are easily repairable using basic tools such as wrenches, screwdrivers, pliers, etc. in fact, some products may offer a lifetime, one-year, or five-year product warranty.
4. Are Glacier Bay faucets good quality?
If you don't want to spend additional bucks for a kitchen faucet without compromising the quality, Glacier Bay is the brand to go with. Also, the durability of their products is also good in the same price range.